SPONSORS
For the first time, FICPI has created a structured sponsorship offer, designed to deliver exposure and recognition to IP firms who want to build relationships and connections with FICPI members around the globe.  Sponsorship is available to IP firms and third-party companies.
For an IP firm to become a member sponsor, it must employ at least one FICPI member. There are special tiered fees for IP firms, with discounts depending on the size of the firm. Sponsorship from non-member and commercial organisations is available at a separate rate.
Elements of the core package include visibility and involvement with FICPI's flagship 2022 event, the World Congress, plus spotlights in publications and on social media and an annual member mailing.
FICPI Secretary General Roberto Pistolesi commented, "This is a fantastic opportunity for firms and commercial organisations to join us in Cannes in September for the World Congress and to raise awareness among our unique community of independent IP attorneys from around the world."
If your firm is interested in learning more about the FICPI's sponsorship opportunities, click here to view the sponsorship proposition, or email: [email protected]
EXHIBITORS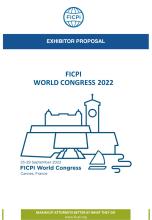 A small number of exhibitor spaces are available at FICPI's 2022 World Congress in Cannes for a fee of € 1000 each.
This entitles a participating organisation to have one representative in the exhibitor area of the Congress venue to host a table top stand, and to benefit from networking during coffee breaks.
Click here to view the exhibitor proposition, or contact us for more information about exhibiting at the World Congress:  [email protected].