The FICPI Academy has responsibility for the training and continuing education of FICPI members and others interested in the best practices of Intellectual Property protection.
One of The FICPI Academy's primary tasks is to devise the content for the working sessions at FICPI's educational meetings, such as its Open Forums and symposia. In this respect, it collaborates closely with the Study & Work Committee (CET) and the Practice Management Committee (PMC). 
The Academy also supervises FICPI's webinar programmes.
Programs focused on less well-developed countries
Under FICPI's strategic plan, The FICPI Academy focuses on providing training and education to members and potential members in countries and regions where the profession is less well developed. 
In pursuit of this goal, for the past 20 years, The FICPI Academy has offered students from around the world the esteemed SEAD™ curriculum on patent drafting.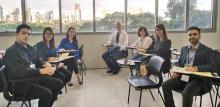 SEAD™ follows the successful format started in Singapore in 1997, and subsequently hosted by Australia and Europe in 1999, Latin America in 2017 and most recently the Philippines in 2019/20. 
The next SEAD™ course will be held in Singapore beginning in early 2024. Information about this will be available shortly.
Another initiative which raises the bar for countries and regions where the IP profession is less well developed, involves a partnership between FICPI and WIPO, the global forum for intellectual property and policy.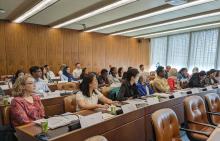 The FICPI/WIPO partnership created drafting training aimed primarily at countries that currently have a low level of filings or limited resources to implement training.  
Forthcoming programs
A new program in the pipeline from The FICPI Academy is a student exchange and hosting project in which trainees or young practitioners are offered the opportunity to undertake in-house training within the host firm. 
Further information will be available soon when the program is launched.
Further information & how to join
More information about all The FICPI Academy's initiatives, including SEAD™ and the WIPO drafting training, developed in partnership with FICPI, is available here.
The FICPI Academy is supported by the Training & Education Committee, the president of which is elected by the EXCO, and its members are chosen by its president after consultation with the Bureau.
If you are interested in joining The FICPI Academy, please contact Eric Le Forestier.
SHORT VERSION:
The TEC Commission is involved in developing the content for FICPI's educational meetings, such as the Open Forums, held every two years out of three in Europe, and other symposia around the world.

It also supervises the work of the FICPI Academy of Education, a body of voluntary tutors and course coordinators who each year run patent drafting courses in Europe and Southeast Asia.