Please send to the newsletter editor: [email protected]
Key discussion points – bullet point style is fine
Key takeaways
Your proposed submission date
If you prefer to talk through your idea, please call Catherine on (UK) 0800 998 7990 or (UK mobile) 0794 166 9925 or email [email protected] to arrange a Zoom or other online call.
Before/while writing
Consider:
How understandable is this for colleagues for whom this is not their specialist area?
How the piece harmonises or supports FICPI's positioning below. (Full communications document will be available shortly.)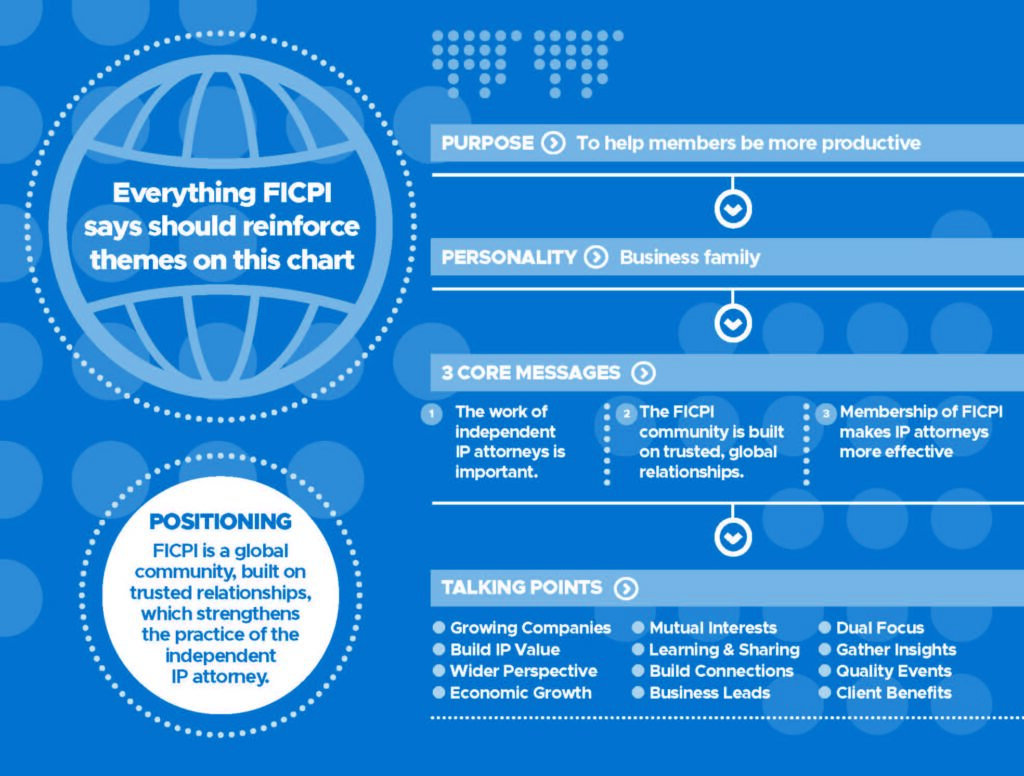 In the Communications Charter we ask that members contribute to the FICPI Blog at least annually.
Other information:
Write in third person, unless an opinion piece in which case first person is preferable. Business tone, not too colloquial nor too impenetrably technical.
The blog you submit
Please see blog master template, click here.
The total length will be approx. 1200 words.
The editorial process after submission
Review:
After submission, the blog editor will review for content and style.

Editing:
They will also edit the piece against best practice UK English, if there are any opaque areas we will use the FICPI style guide as first place for clarification, followed by FT Style Guide if there are still question marks.

The editor will also check each submission for congruence with the FICPI positioning statement and core messages as above.

Layout:
The editor will create subheads, paragraph breaks, a pull out quote/statement, for improved screen reading, as part of the editing process.

Tag assignment:
The editor will assign up to 3 tags from the tag library to the blog (see below).

Final review:
The editor will send the piece back to the author for final review only if clarification is required or substantial edits are required.

We propose that members of the Editorial Board review the piece post-editing, on a 'taxi rank' system.

Important:
Once checked for any political sensitivities, the blog may be published on the FICPI website, newsletter and social media sites, unless indicated that it is purely for FICPI members only. The author(s) agrees to any publication or other reproduction in whole or part by FICPI under applicable copyright laws and waives any right that might otherwise hinder FICPI or its members using the content now or in the future, save that the author retains the right to be named as such.

Language:
Please refrain from profane, foul or abusive language. FICPI's editorial policy is not to publish swear words and that these will be changed to other wording or deleted during the editing process.

FICPI categories and tags for blog
Categories
IP laws and practice (includes legislation, practice changes and tips, case-law from around the world, commentary and thought leadership)
FICPI activities
FICPI committees and working groups
Professional standards, ethics and best practice
IP as a business, practice management
IP asset management (valuation, licensing, FRAND, etc.)
Conferences and events (FICPI and other)
Tags
Country/region names/territories e.g. UK, EU, Andean
IP office names e.g. European Patent Office, EUIPO
Patent
Trademark
Copyright
Designs
Trade secrets
Domain names
Litigation
ADR
Licensing/FRAND/patent pools
IP valuation/litigation insurance
Law/regulation/case law
Guidelines
Special subject matter areas e.g. pharma, biotech, high tech, AI, computer-implemented inventions
Plus sub tags as needed