Today, the UK IPO outlines the details of its 'One IPO' Transformation - a 5 year programme to transform IP services and enhance the value the IPO adds to the UK economy. The programme will not just replicate and modernise the IPO's current processes, systems and services, but completely transform the way they are delivered to make the most of modern digital technology.
The centrepiece of the programme is a single, integrated system for all registered IP rights (patents, trade marks and designs), which will allow creatives, innovators and businesses to seamlessly apply for, manage and research all of their IP rights in one place. The IPO say that having more efficient digital services will allow them to provide new service offerings in the future – not just helping people to protect their ideas, but empowering them to use and monetise their IP.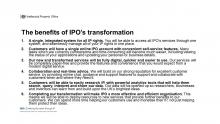 Explaining the reasons behind the transformation programme, IPO CEO Tim Moss said:
'At the IPO our ambition is to be the best IP office in the world. We know that our customers value our first-class culture and customer service, which already sets us apart. However, we also know that we do not meet our goal of excellent IP services, and our customers rightly expect more as the world we live in becomes increasingly digital by default. 

Our transformation programme is our pledge to up our game – to deliver excellent IP services that meet the needs of our customers. To achieve that we will not replicate what we do now, but completely transform the way we deliver services. This will not only result in more modern, flexible, digital services, but also opportunities to explore new services to help our customers protect, research and use their IP more effectively, reinforcing the UK's place as a global innovation and IP leader.

We know that helping our customers helps the UK economy, and we are passionate about playing our part to help both build back better.'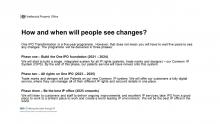 Full details of the One IPO Transformation have been published in our Transformation Prospectus. A virtual Q&A event will also be held at 11am – 12pm on 12 May 2021 where you will have the opportunity to put your questions about IPO's transformation to the leaders of the programme. A blog from our Deputy CEO, David Holdsworth, on our transformation programme has also been published.
Find out more on the .gov.uk website.
The IPO will also be running a series of user testing sessions to get feedback from customers throughout the programme. If you'd like to get involved. contact usertesting@ipo.gov.uk to take part in user testing.