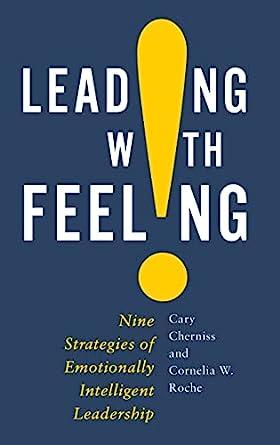 For many decades, the conventional wisdom was that emotion has no place in the work world, and the ideal leader is one who approaches problems rationally and unemotionally. However, the reality is that emotion is inevitable when a group of people come together for an extended period of time to work on challenging tasks, and if used effectively, a leader's moods and emotions can be a plus rather than a minus.

This book describes how 25 outstanding leaders used emotional intelligence to deal with critical challenges and opportunities. Featuring commentary from the leaders themselves describing how they handled each situation, it helps managers better understand not just what emotional intelligence is, or how to measure it, or how it is linked to bottom-line results: it also shows how real leaders used their emotional intelligence to deal with real situations. The book distills the leaders' experiences into nine strategies that can help any leader or potential leader to be more effective. Each chapter concludes with activities that help readers to apply immediately each of those strategies.
As professionals, we are expected to be experts in our respective fields, and as we gain experience, and maturity, we are also expected to become leaders.  Leadership is something that doesn't necessarily come easily to everyone, and sometimes professionals are placed in leadership roles just because they are a rainmaker, or a recognized expert.
Emotional intelligence is a concept that has gained traction in the past few years, and this book allows you to raise your awareness about emotional intelligence and offers practical advice to leverage this skill when in leadership positions.