Dear friends
Thank you to all who attended the FICPI Open Forum 2023 - delegates and guests.
London Called, and you came!
It was wonderful to see IP attorneys from over 58 countries and regions come to London, and of course, we provided sunshine for your visit too!
I'd also like to offer my thanks to Michael Caine who did a superb job as programme leader; Sharon Crane, Rob Katz, Anne Lévy and Toni Ashton as stream leaders; Rebecca Sandland and Jenny Tsimpris in our secretariat; our event organisers ENIC; Catherine Dhanjal on the social media and comms; and everyone else involved in the preparation and running of the event. 
Roberto Pistolesi, President, FICPI International
The Technical Programme
Plenaries:
We marked start of each day of the technical programme with a superb plenary session.
Our first, on Thursday 5th October, tackled the subject of: Intellectual property, traditional knowledge, traditional cultural expressions, and genetic resources - how to deal with and balance their interoperability?
Swarup Kumar, FICPI Deputy Secretary General and of Kumar & Sardana Associates in India, moderated the session and presented the situation in India, with Marion Heathcote of Davies Collison Cave bringing delegates up to date on the situation in Australia (particularly poignant given the referendum in the country this month to vote on whether to bring indigenous peoples into the constitution), and Shoshanna Paul of Thompson Dorfman Sweatman, giving insights into the situation in Canada. Edward Kwakwa, Assistant Director General, Global Challenges and Partnerships Sector at WIPO discussed WIPO's efforts to support indigenous peoples and local communities with technical assistance and capacity-building activities. He commented, "I believe that the value such public-private exchanges bring to this discourse is important in establishing a comprehensive dialogue that aggregates perspectives from the worldwide IP attorney community on IP practice-related concerns or IP law themes."
Our second plenary, on Friday morning, tackled: Partnerships - will you marry me? Speakers brought to the room their own insights and experiences from different ownership models and alliances.
Moderator Roberto Pistolesi, FICPI President and of Dragotti & Associati in Italy, chaired the session, with speakers Valérie Feray of Ipsilon IP (FR), Richard Kempner of Haseltine Lake Kempner (UK), Karin Kärvling Soholt of Zacco - 360 (DK) and Andrew Blattman of IPH Limited (AU). 
At a certain point of its life, or for legal or strategic reasons, an IP firm might look abroad to build a partnership and secure its growth or open up to new markets. Considerations include market consolidation; client desire to have vertical and geographical one stop shops, covering the whole IP lifespan; the war for clients; the challenge of a low growth marketplace; being able to offer services across time zones.
The panel shared challenges and advantages of their own set ups, from marketing and sales remuneration, to the importance of staff retention, handling change, how to merge culture and values, and legal structures. Private equity might be needed to help the firm move to the next phase of growth and speakers with private equity partners generously shared their experiences of this.
Streams: 
FICPI's popular three-stream format ensured topics covering patents, trade marks & designs, and practice management were well-represented throughout the technical programme.
Sessions included The status of FRAND/SEP case law featuring Lord Justice Colin Birss alongside Sebastian Ochs of Grünecker (DE) and Hasan Rashid of GE Licensing (US), in a session moderated by Brett Slaney of CPST IP (CA). 
With many delegates commenting that they were torn between which sessions to attend, we have made the presentations from the sessions are available to view online at: https://ficpi.org/library/presentations/16371
Thanks to Kangxin for sponsoring FICPI throughout 2023. Thank you to Minesoft for sponsoring the 2023 FICPI Open Forum.
The social and sporting events
This year's social and sporting events presented an opportunity to get to know delegates and guests in a more informal setting, to deepen relationships, and to see London in a very special way, from the welcome dinner on the Thames River Cruiser to the closing Gala Dinner in the world-famous Natural History Museum under the famed blue whale skeleton.
At the Gala Dinner we heard from FICPI's 2023 winner of our Young IP Attorney under 40, Tarso Machado; thanked our stream leaders; and presented immediate past President, Julian Crump, with a special trophy in recognition of his services. Our memorable social events would not have been possible without the invaluable assistance of Tracy Watson, wife of our Study & Work (CET) Committee President, Robert Watson.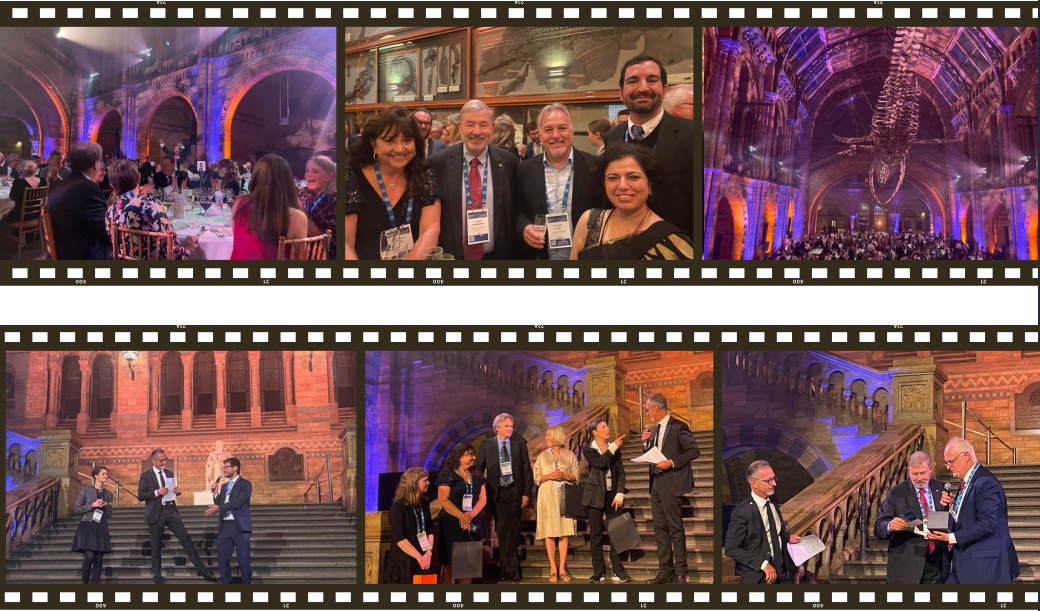 Save the date for 2024!
We are delighted to announce that the 22nd FICPI Open Forum will take place in Madrid from 25-28 September.