Toni Ashton reports on the 46th session of WIPO's Standing Committee on the Law of Trademarks, Industrial Designs and Geographical Indications (SCT).
The SCT strives to achieve consensus to provide non-binding guidelines to IP examiners around the world; to encourage WIPO to develop tools to make the filing and management of IP properties easier globally, and to perhaps arrive at multi-lateral treaties respecting trade marks, designs and geographical indications of origin. Movement is slow but as the years prove, the committee is a way forward through discussion.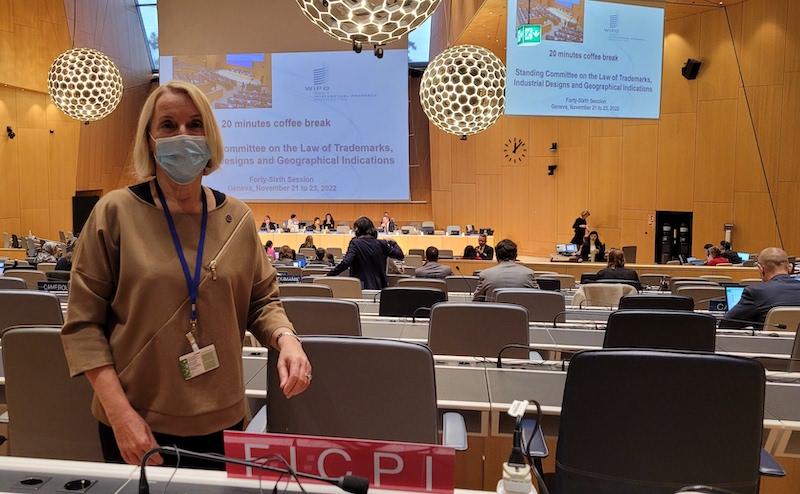 Design Law Treaty
The case in point this year is the decision by the General Assembly in July 22, 2022 to convene a Diplomatic Conference no later than the end of 2024 to hopefully adopt a Design Law Treaty (DLT) which would be a milestone event at WIPO if it comes to fruition.  Concentrated work to prepare for such Conference will occur in October, 2023. 
FICPI has supported this work, for example, by its resolution in 2008 as well as engagement in the process by suggesting key issues facing applicants, in an attempt to improve the IP system.
Graphical User Interfaces (GUI)
Discussions between delegates made clear that there is as yet, no consensus on how to streamline procedures and reach agreement on best practices for evolving technologies such as these. Developing countries worry about increased costs in providing for such designs. Discussions will continue at the next SCT meeting, and FICPI will continue to press for design protection on GUIs, as indicated in this resolution passed in Toronto in 2018.
Digital Access Service (DAS)
As one country stated, having WIPO DAS for priority document exchange, has been the best step for industrial designs in years. FICPI strongly supports the use of DAS or equivalent systems for both designs and trade marks, and this was part of a resolution passed in Cannes in September this year discussing priority documents in trade mark applications.
Country Name protection, including trade marks which consist of or contain country names or geographical names of national significance
Since a country name could be seen as a matter of sovereignty, it is not surprising that this topic remains an emotional issue at the SCT and is unlikely to achieve forward motion unless the delegations can find a way to "downsize" the topic. Hence this subject matter was left open for further discussion at a future SCT meeting, including the holding of an Information Session on the Protection of Nation Brands in member states. It was agreed that such information session would cover the importance of nation brands in the design of public policies and strategies; the impact of nation brands on socio-economic development, the experiences of states respecting nation brand protection, and current nation brand protection mechanisms. This is something FICPI has already considered, passing this resolution in Hangzhou in 2017.
Geographical Indications of Origin
This is another emotive subject. An information session was held on the subject of GIs for non-agricultural products (including crafts and industrial products) if the quality of the goods can be essentially attributed to their geographic origin. Currently, international agreements focus on agricultural products. The EU, for example, has a legislative proposal to expand GI protection. Another information session covered a more controversial aspect of GI protection, namely services. In theory, one can argue for this if the service complies with the natural resources of an area with applicable standards. Examples were given such as GIs for eco-tourism. One speaker acknowledged that this is "uncharted territory".  There will be another information session at SCT 47 on the topic:  trade marks and GIs:  prior rights grounds for refusal.
WIPO domain name dispute mechanism
Use of this service continues to grow with a 10% increase in cases for 2022 over 2021.
Future meetings
SCT is not expected to convene in 2023. The DLT will be WIPO's priority. 
FICPI's view and involvement
Independent IP attorneys bring insights and counsel from a wider external perspective and a commitment to high quality work, complying with all relevant regulations. FICPI uniquely combines education and advocacy on topics around patents and trade marks, with a focus on developing the professional excellence of its individual members. 
Next steps
Photographs courtesy of WIPO:
The Forty-Sixth Session of WIPO's Standing Committee on the Law of Trademarks, Industrial Designs and Geographical Indications(SCT) took place in Geneva from November 21 to November 23, 2022 in hybrid form – with delegates and observers attending physically in Geneva, Switzerland, and via remote participation from around the world.   
Copyright: WIPO. Photo: Emmanuel Berrod. This work is licensed under a Creative Commons Attribution-NonCommercial-NoDerivatives 4.0 International License.