Dr Isabel Schellinger is a medical doctor and scientist. In 2020 she co-founded Angiolutions, a German company that's developing the world's first implant to treat small abdominal aortic aneurysms. These pathological dilations of the aorta, the biggest blood vessel in the body, grow when left untreated and leave patients at risk of imminent (typically fatal) rupture.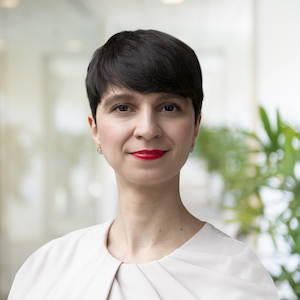 Around 5% of men over the age of 65 are affected by such aneurysms as well as a smaller percentage of women.
Statistics show that a sobering 80% of people with this type of aneurysm do not survive a rupture, either dying before they reach hospital or failing to survive surgery. In the US alone an estimated 15,000 people a year die from complications arising from an aortic aneurysm.
Isabel explains, "Given the aging societies that we are facing, not only in Europe and the US but around the world, it is clear that there is a huge medical need for people who are at risk of this disease."
Although most patients are diagnosed at an early point, when the aneurysm is still small at around 3-4cm, there is currently no therapy to prevent this progressive disease leading to a larger aneurysm of 5cm or so. This is when the risk of rupture becomes more likely and is deadly in most cases.
Isabel adds, "Treatment options are reserved for aneurysms larger than 5-5.5cm which leads to the frustrating and dangerous situation where patients must wait until they're eligible for treatment… and this is when they are most at risk of imminent rupture. These aneurysms are appropriately named 'ticking time bombs'.
"Our invention – a minimally invasive device to stop small abdominal aortic aneurysms progressing to increasingly life-threatening size could save healthcare systems huge sums of money and thousands of lives every year." 
The company gained its first investors in late 2020 and started its operations in early 2021. Pre-clinical trials have completed and they are currently planning their first in-human trials.
Still only in her thirties, Isabel has already been recognised by Technology Review as an Innovator under 35 and one of the Forbes '30 under 30 – Science and Healthcare' in 2018.
Discovery through diversity
Both Isabel and her co-founder Dr Uwe Raaz have backgrounds as medical doctors and met when carrying out research at Stanford University School of Medicine in the US until 2015. They continued to meet and discuss ideas over the years and these came to fruition through Angiolutions in 2020.
"My co-founder Uwe came from a biomechanical research angle, I came from angiogenesis research – examining how blood vessels grow," explains Isabel.
"This combination of our two different backgrounds is what contributes to Angiolutions having a unique invention. In research and intellectual property, having diverse backgrounds certainly helps to build something unique."
Rethink approaches to illness
"People are starting to rethink how we look at disease," says Isabel.
"Myself and my co-founder both come from a medical background. I think you go into medicine because you want to help a lot of people and a discovery like ours means we can help many more people in a lifetime than we could individually as doctors."
She explains that 'hospital' in German means 'house of the ill'.
"I think now we're seeing a shift to preserving health and a healthy older generation, rather than the focus being on regaining health after a disease has reached an irreversible stage. Prevention is a very important phase and early treatment such as ours is along these lines. This is part of a paradigm shift that society as a whole needs in the direction of prevention and early intervention.
"As a company Angiolutions are at a very early stage. It's very difficult to predict the future but I feel if you address a real unmet clinical need there will be commercial success because you're addressing something that's very important to a lot of people… and aortic aneurysms are something that a lot of people can understand should be treated."  
Seek out sparring partners
"If we can, we would like to take this company and product worldwide – it would be very challenging but a dream come true," says Isabel.
"Our product is very unique and we can contribute to the paradigm shift by being the first implant to address small aortic aneurysms. There is nothing on the market for small aortic aneurysms currently, what we're doing is very unique and novel.
"I don't come from an IP background by training, the process was not terribly familiar to me but I recognise IP is essential to our journey.
"We were very fortunate in finding excellent partners to work with us. We're working with an IP company in Munich, Eisenführ Speiser. Two amazing people there, Fabian Fegers and Manuel Söldenwagner, have not only been great sparring partners when it comes to our ideas but also mentors.
"When you're not from the IP field you need a mentor showing you the way – when you understand how the IP process works, you have a smoother journey because you know what's coming up along the way.
"IP is very important to us as a technology-based company. We come from research but, of course, we need the credibility, the proof of innovativeness that the IP rights bring, and it's clearly something that gives us a competitive advantage."
Advice for women inventors
"Some of my advice for women inventors applies equally to men," says Isabel.
"At Angiolutions we certainly benefitted from having mentors who told us to think of the IP rights from the first day. When you think of IP, it's important to protect your ideas from the beginning.
"Find good partners, combine different expertise into your team, don't try to do it alone but find a community that you trust and admire and want to be a part of. I enjoy working with people with whom I have a really good chemistry.
"As a woman I've learnt from my own experience that it's crucial to find male co-workers or supervisors who are willing to speak up for you if the playing field is clearly not level. You cannot be in this struggle alone, it's important to have a mixed gender team where people are aware of the challenges that women can face.
"If your workplace isn't enlightened, leave that environment where people don't stand up for each other… otherwise it's too much of an uphill battle and one that you're always going to lose.
"In my working life I've seen that women are trying to connect more with each other and to share their experiences more, so that they don't feel so alone. If you discuss experiences with others, you will address challenges differently and see whether the challenge you're facing is systemic or due to your own circumstances or personality… then you can start to find appropriate solutions."
1st place in FICPI's World IP Day competition 2023
Nominated by: Fabian Fegers, Eisenführ Speiser, Germany
Fabian says, "Isabel moved from researcher in medicine (Erlangen (DE), Stanford, Stockholm, Göttingen (DE) and Leipzig (DE)) to co-found a startup. She did groundbreaking research in Stanford, has been nominated by Forbes 30 under 30 and is part of the Young Academy (at the German Academy of Sciences)."