Young women from The Pennington School in New Jersey, USA are helping to transform the lives of girls across Malawi through the development of a partly reusable sanitary pad which greatly increases the number of girls who can stay in education through their teenage years.
The Women in STEM Solving Problems (WISSP) project started with provision of the sanitary pads to girls in the Dzaleka refugee camp, the largest camp in Malawi, and has since expanded through direct sales in local markets and partnerships with charities and NGOs.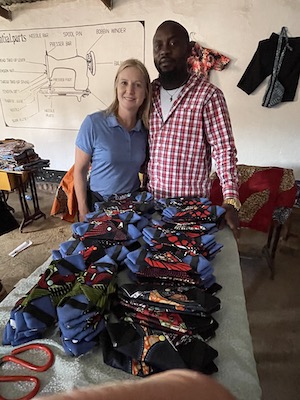 Women in Stem Solving Problems (WISSP), The Pennington School, USA: Susan Wirsig, Shealyn Tirendi, Kira Cafferty, Julia McDougall, Frani Pendus, Jordan Mahony, Lizzy Adams, Ariana Colner, Gloria Liu, Ellie Fermo, Emily Barkley, Alexa Lepold, Maygala Selvisudhakar and Molly Gibbard
Frani Pendus first got involved with the WISSP project – Sanitary Pads for Economic Empowerment - four years ago in her freshman year. She explains, "After an initial trip to the Dzaleka refugee camp in South East Africa to donate iPads, our WISSP Leader, Ms Wirsig reported that as the schools went up in grade level there were less and less girls attending. She brought that problem to WISSP.
"We did some research and we found that lack of menstrual care was one of the main reasons why girls were not attending school – because they didn't have adequate materials to care for their menstrual cycle. This means that they miss 1.5 years of school which makes it very difficult for them to complete high school and go on to further their education."
Around 55,000 displaced people from the Democratic Republic of Congo, Burundi, Ethiopia, Somalia and Rwanda live in the refugee camp, around 15,000 of whom are menstruating women.
The lack of water in the refugee camp created challenges. The World Health Organization recommends that people use 20 litres of water a day for washing and general cleaning but at Dzaleka they only have access to about 9 litres of water a day. Using a fully washable pad wasn't logistically possible or effective for them. Fully disposable pads were expensive and put too much strain on their sanitation systems.
Frani adds, "One really great thing about our pad is that it can accommodate different disposable components in it which reduces the water needed for washing and also makes it easier to use."
They created the pad through an engineering design cycle and many rounds of testing. 30 young women at Pennington and many in Dzaleka tested out the hybrid pad as it went through different design phases.
Economic infrastructure
An important element of the project is adding economic value to the community in Dzaleka.
Susan explains, "Through the project we're teaching young teens new skills – both how to sew, and how to generate income for their family. That not only gives them power as a family member but since we know women often invest their income back into their family or community, the entire community benefits when women have this economic power.
"As a teacher, another value-add is one that I'm struck by every day. When I have young women like Gloria and Frani working on this project in their formative years, I can see growth in their confidence in understanding how they can use their skills to change lives of other people, to add value, to do good… and they are inspiring to work with. I believe the project is creating a pipeline of young STEM-minded women who can be agents of change."
Partnering
Gloria Liu is leader of the project's NGO relationship development. She says, "We are already extending the use of the pad beyond the Dzaleka refugee camp. After we established the final design of the product, we identified a local tailoring school at the Dzaleka refugee camp and we trained around 20 young women there to produce them.
"Firstly, the girls started selling the pads to family and friends, and some sold them at the market in Dzaleka. Last year we also started partnering with NGOs in Malawi to resell pads to the NGOs where they can distribute them to the girls in their community. We now partner with five NGOs including Somebody Cares Ministry, Lilongwe Health Commission and Global Health. We now have 4,000 pads in market."
Frani adds, "We also have a new partner that we're very proud of! We recently started partnering with We Women who are working on educating young women around Malawi about menstruation, particularly girls in villages where menstruation and menstruation products remains a very stigmatized topic.
"One of the leaders of that group was one of our original trainees. She is passing on the production expertise she learnt with the project and is now part of the wider economic infrastructure, teaching other young women how to sew and sell this pad and use it for their own benefit."
Patenting
The project began work on utility and design patents in Autumn 2021 with the IP firm Rothwell Figg in Washington DC.
"Rothwell Figg have been exceptional with us," says Susan.
"They explained the process clearly and really mentored our girls through it. In particular, attorneys Sharon Crane and Malissa Magiera have been incredibly helpful and have even donated their time to do the work. Our young women would send information and Sharon and Malissa would rework it and send it for drawings."
She adds, "Our first paperwork was filed in February 2022. The school will own the patent, and the patent gives credibility on many levels to the young women who worked on it."
Having a patent also gives independent credibility to the product.
Gloria is leader of the WISSP NGO relationship development. "When Gloria works with her girls to generate more NGO partners, it adds significant credibility having a product that has two US patents pending," adds Susan.
Frani adds, "There are couple of hybrid pads on the market but we believe that our pad offers a better option for women living in low water resource communities, women in poverty because it has a lower cost attached to it. We've also developed the economic resource side, where it can generate income. Our pad is also more accommodating for different types of materials, and it is faster drying and uses significantly less water than others on the market."
Encouraging women inventors
"Innovation is a pretty male dominated field," remarks Frani. "Sometimes as a woman you can feel as though you have a little bit less power in the process but one thing that we as WISSP want girls to know is that women do have power and can make an impact… and it's all about figuring out ways that you can do that.
"At the beginning while we were testing the reusable pads on ourselves, it did not feel that great, it was a culture change and something that we weren't used to but you can still make an impact - you have to be determined to do it."
Gloria says, "I'd like to add that I was inspired by role models like WISSP leader Ms Wirsig and Ms Crane and Ms Magiera, the patent lawyers who gave us the instructions and helped us through the process of applying. I am a senior in high school now and I see a lot of younger girls join our project and our organisation. I try to tell my story, to explain why I got involved with WISSP and to inspire them to also take part in this work… it's very meaningful."
Both young women plan to continue innovating. Gloria is attending Princeton University to study engineering in the fall, and is interested in joining clubs like women in STEM and women in engineering clubs. "I'll definitely be on the path of designing products and innovating in the future," she says.
Frani will study computer science at North Eastern University. She says, "Projects like WISSP really open your eyes and help you connect to people that are living very different lives. It makes you reflect deeply on the way people live in other countries, what can you to do help improve their lives. Looking for ways to make other people's lives better is something I really do hope to continue doing."  
Susan concludes, "Gloria and Frani have been real leaders for the project. They've been directly involved with it for a long time but they're also helping the younger freshmen and sophomores, really taking them under their wing and guiding them through that process in the same way that Sharon and Malissa guided Gloria and Frani. The underclassmen from Pennington are now helping teens and women living in Dzaleka, so it's really a whole network of women helping each other to make lives better."
2nd place in FICPI's World IP Day competition 2023
Nominated by: Sharon Crane, Rothwell Figg, USA
Sharon says, "These WISSP inventors have developed a partly reusable sanitary product for young women in the Dzaleka refugee camp that allows girls to stay in school and finish their education, and its manufacture and sale within the camp supports and elevates the economic infrastructure for women in the camp."